In the 21st century, our brain function start to decline as early as in our 20s proven from several scientific studies. Obviously we are pretty familiar with cause, or I would say the word we always speak out – STRESS. I can see that the youngster like me are facing stress from assignments, exams, relationship problems or even financial problem. The working adults would be at an even tense situation at work and family causing unwanted stressful conditions.
Rynn Lim, Celebrity ambassador of BRAND'S
The degeneration of the brain cells has lead to decline in cognitive performance such as lower mental alertness and memory retention. I could tell it from my own selves low motivation to learn and bad at memorising stuff (such as my law exam). What could be worst still I'm having difficulty going to bed every night and real tired and sleep in the day.
The latest research reveals that consuming BRAND'S Essence of Chicken daily may help improve cognitive performance especially under stressful conditions.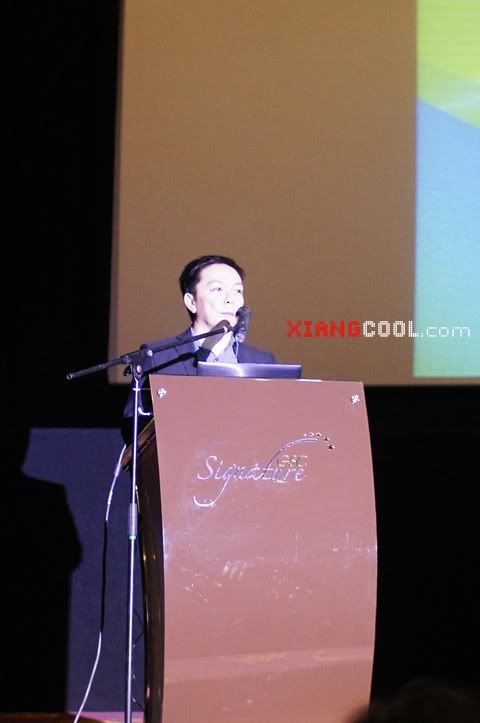 Opening speech Mr. Koh Joo Siang, General Manager of Cerebos (M) Sdn. Bhd
In his speech, I learned that BRAND'S® Essence of Chicken is the only scientifically proven product of its kind, backed by over 20 years of extensive scientific and clinical research conducted worldwide.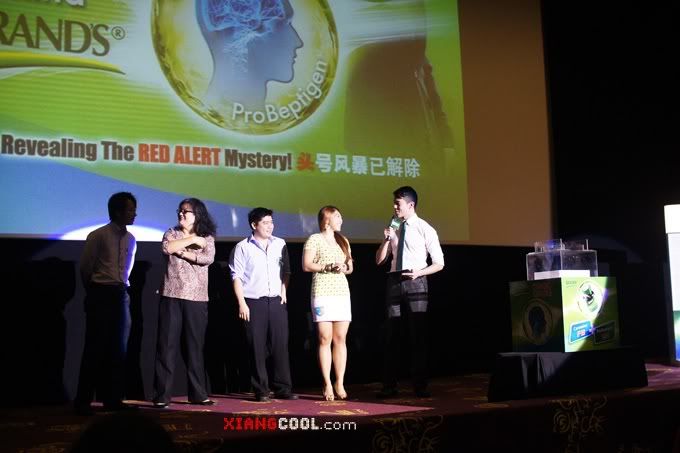 The event carried on with a memory game, ChrisTock and Linora went up stage took the challenge.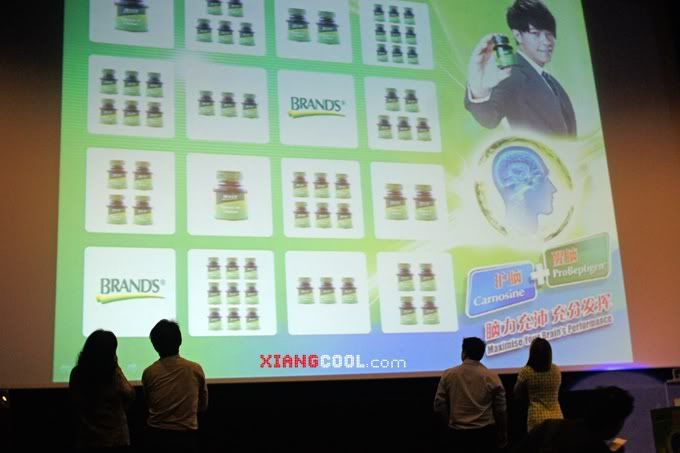 They have to memorise the puzzle above in a minute and match it out in given time…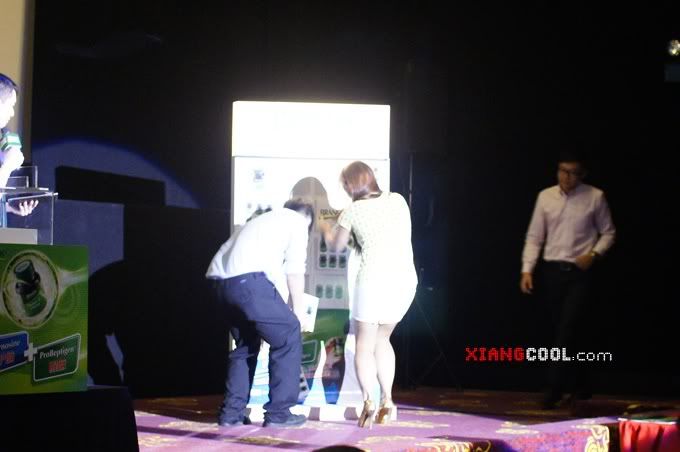 They didn't fail themselves and get all the puzzle right at the position. Kudos! I doubt I can remember all the positions of the puzzle =P
Following on was Dr. Philip Tsang, a scientist whose niche area of research is the human brain, to present how ProBeptigen™ and Carnosine, the 2 amazing peptides in BRAND'S Essence of Chicken, can help nourish the brain and decelerate brain degeneration.
I have to say that I learned quite a lot of facts and how BRAND'S Essence of Chicken actually able to help maintain brain health and improve brain fitness.
ProBeptigen™ and Carnosine are the key bioactive peptides that provide stress resistance, neuro-protection and cognitive enhancement and they are naturally present in BRAND'S Essence of Chicken.
Carnosine is a natural antioxidant present in both brain and muscles. In the brain, it also serves as a neuroprotectant by preventing the accumulation of damaged proteins in neurons and shields against the damaging effects of neurotoxic agents.
Meanwhile ProBeptigen™ helps to enhance both memory and motivation to learn under pressure because of its regulation of serotonin – a neurotransmitter in the brain associated with multiple brain functions – which can be affected under continuous stress.
I believe you have notice the brand new BRAND'S TVC by Rynn Lim on TV this few day, I get to see/listen live from him at the media event. If you didn't, check out the video below =]
Rynn Lim, Dr. Philip Tsang, Senior Scientist at BRAND'S Brain Science Centre, Mr Koh Joo Siang, General Manager of Cerebos Malaysia and Ms Carmen Liew, Marketing Manager of Cerebos Malaysia.
Media Q & A Session
Mr Koh assured that it is impossible for us to extract the same amount of ProBeptigen and Canosine if we were to make our own essence of chicken at home. With the help of new age technology, BRAND'S is proudly to bring us such a top quality and efficacy product.
For more information on the product, kindly check out BRAND'S Facebook Page…
At the media event itself, BRAND's introduced and flew the BRAND'S Brain Station Augmented Reality game all the way from Hong Kong.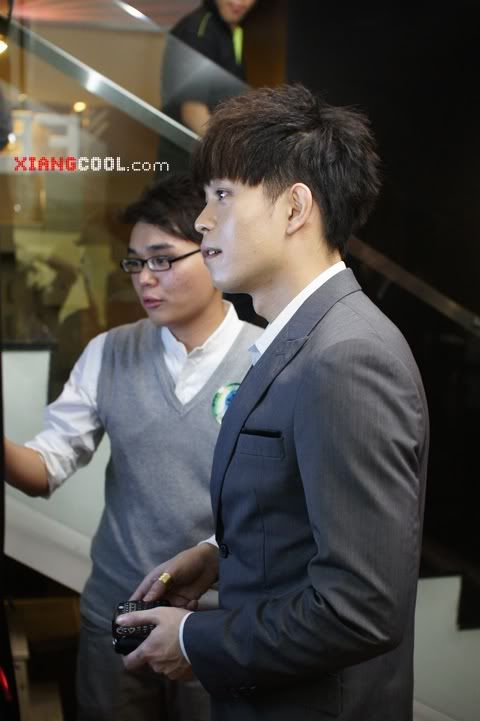 Rynn Lim, the celebrity ambassador of BRAND'S is trying the game at BRAND'S Brain Station.
Oh well, I took a try as well and it's pretty cool! I have to capture as much ProBeptigen™ and Carnosine in given time.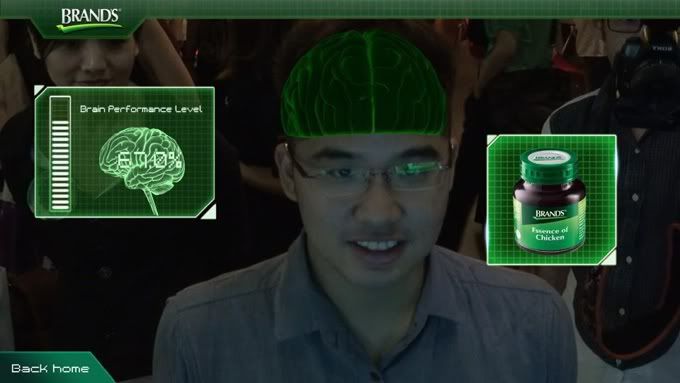 That's how my brain looks like, okay I don't know how to describe that =P ( Directly Uploaded to Facebook from the BRAND'S Brain Station )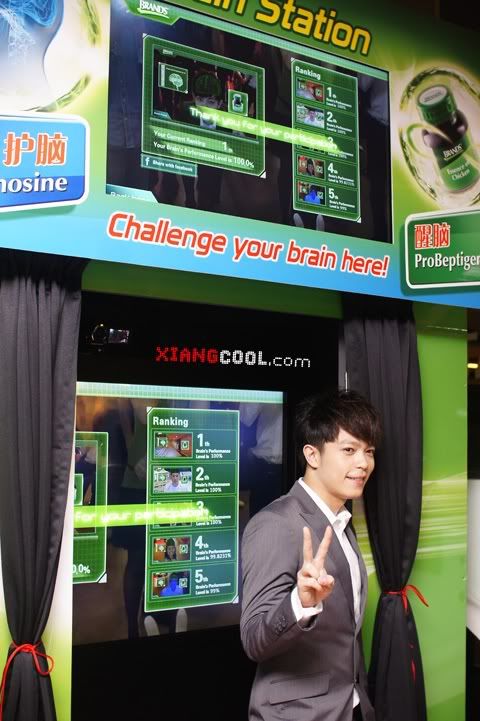 Since I'm sponsored with 14-bottle pack BRAND'S Essence of Chicken, I shall use it to improve my brain fitness to counter the stressful finals I'm facing next month.
Thanks BRAND'S!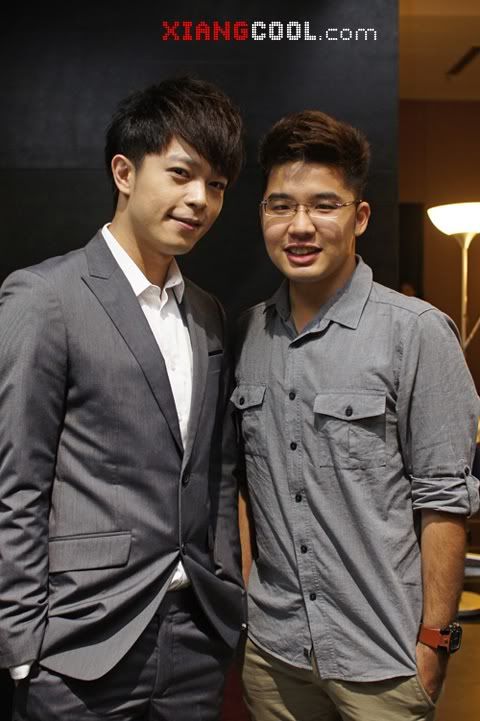 Photo of me with Rynn Lim before the event ends!