If you unsure where's One World Hotel, it's the one connected to One Utama in Damansara. My first visit to this hotel was for the Rice Dumplings in Zuan Yuan Chinese Restaurant and I get to try something new from the traditional rice dumplings.
Leave it aside, I'm gonna share my views on the cakes selling in Cinnamon Coffee House, One World Hotel.
I shall kick start the post with the monthly special June featured cake – Aloe Vera Chocolate Cake.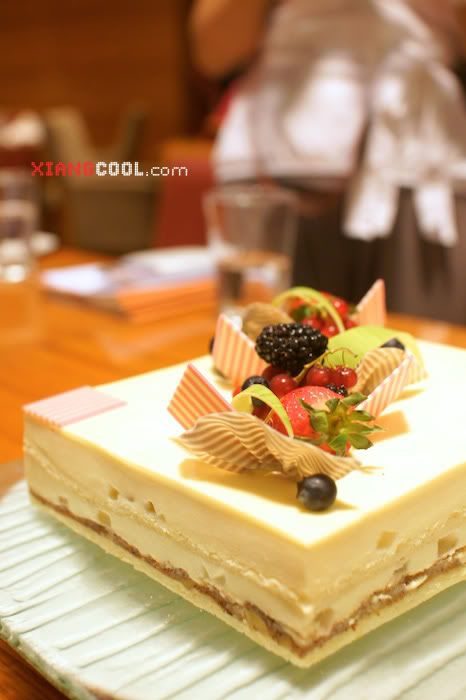 Unlike other white chocolate cake, Cinnamon special Aloe Vera Chocolate Cake doesn't seems to be very sweet. The mild white chocolate taste and the aroma was spiced up with the nuts lay underneath it, the complexity of texture of the whole cake add marks to it as well. It's soft and cooling when you savour the taste bud with the aloe vera in it.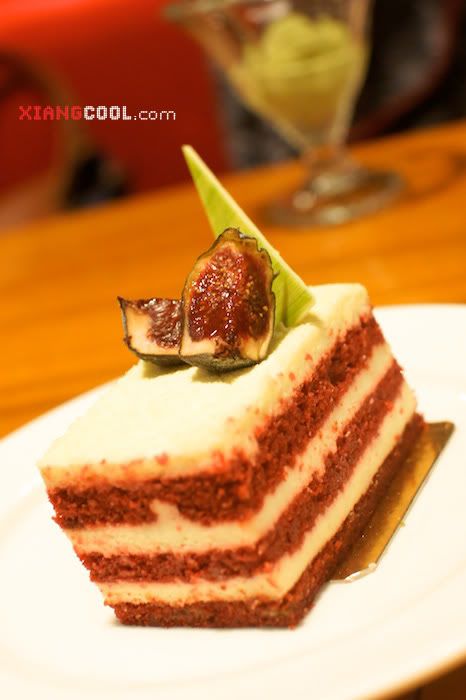 The Red Velvet Cake served by Cinnamon Coffee House seems extra cheesy than others. it's creamy and yummy =]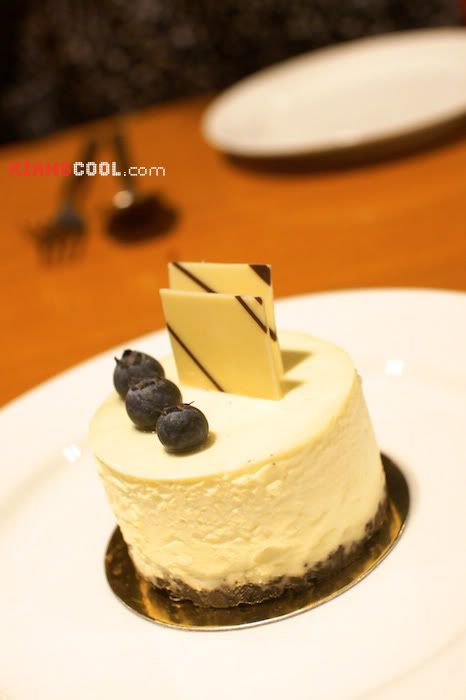 The Oreo Cheese Cake was a splendid one if you love cheese a lot. The bottom crispy oreo layer blends with the smooth creamy cheese and boom! It's the bomb!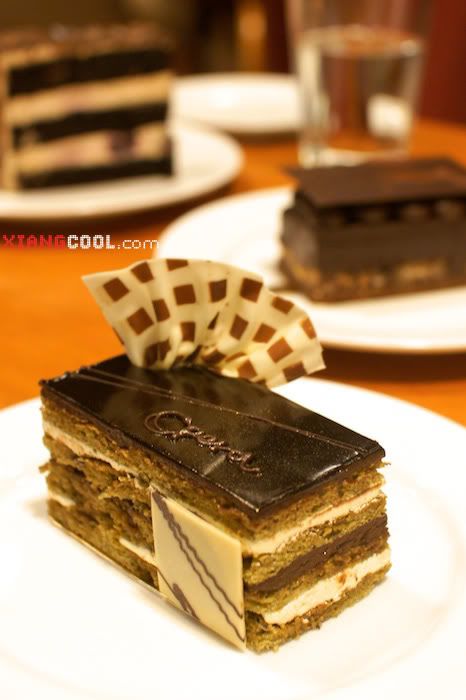 Green Tea is always something I like to drink, but not an ingredient for food. Apparently the Green Tea Opera Cake coffee content in the buttercream was strong enough plus the sweet chocolate glaze able to cover the green tea taste away. I dunno is that good for you, but definitely something I would love to have.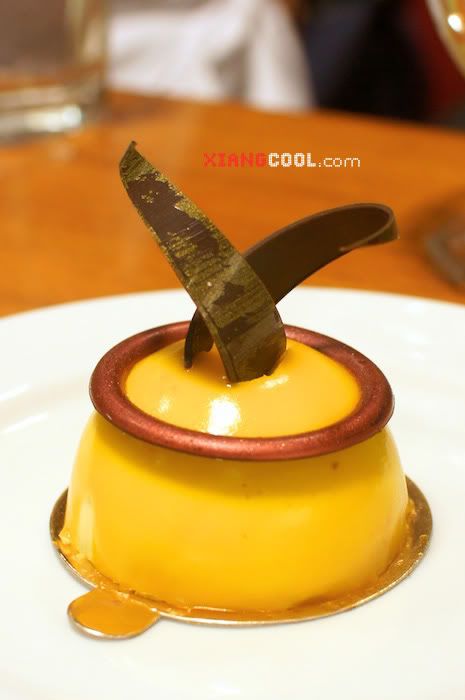 I'm quite particular with Mango ice cream/cakes etc but this Mango Dome definitely satisfy my criteria. They uses fresh mango in making the dome, hence you get the authentic taste of mango unlike a lot artificial mango taste ice cream/cakes.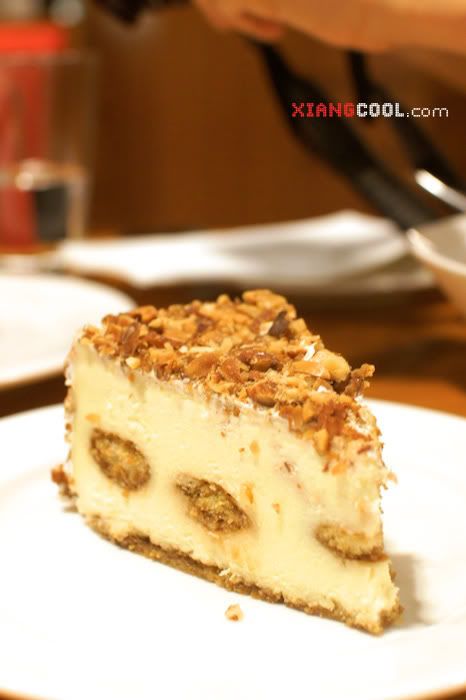 The Mix Nut Tiramisu was moist and filled with light coffee flavour. Unlike others Tiramisu Cake, Cinnamon topped it with mix nuts to improve the overall taste and aroma.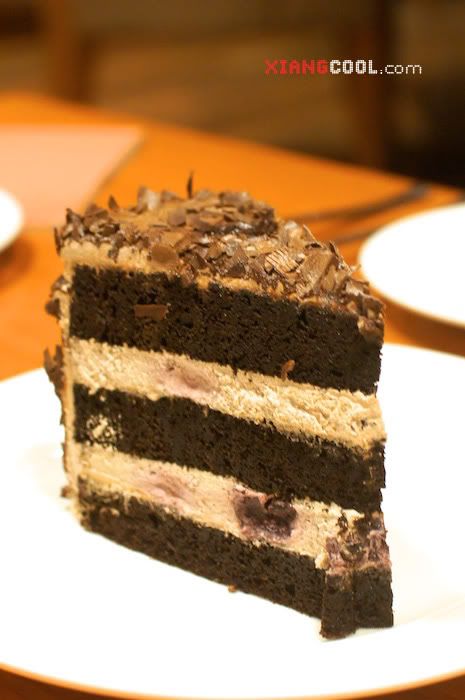 The Black Forest Cake was overload with dark chocolate. The dark chocolate was so strong that it covers the cherry taste. It taste something like chocolate moist cake to me though…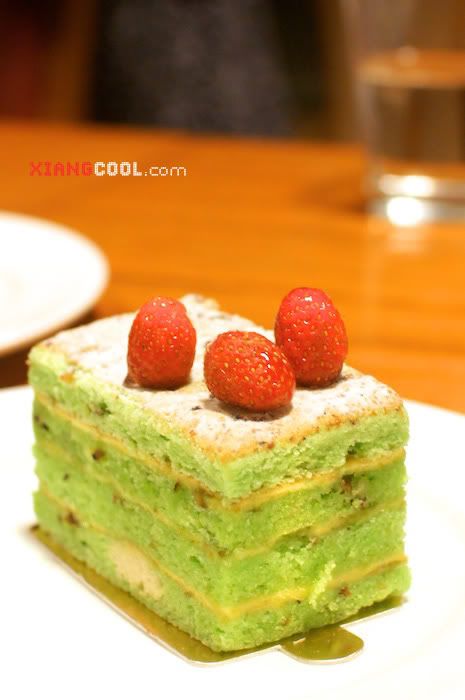 This cake looks like a Green Tea cake but it wasn't, it's Pave Pistachio. I'm a fans of pistachio and it taste good to have it with sponge cake. Not to mention it taste alike pandan flavour to me.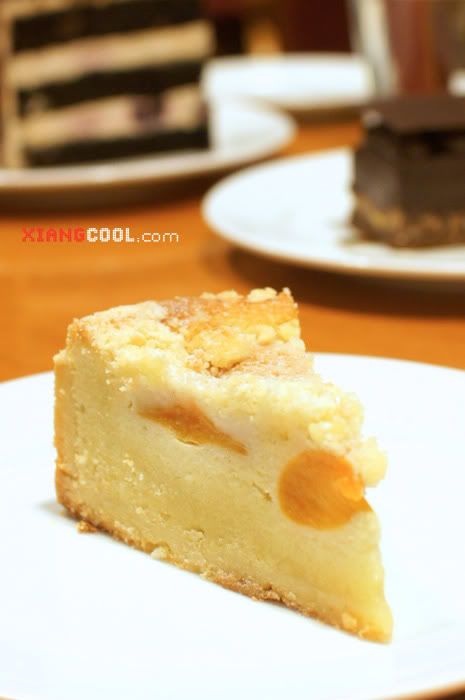 This piece of cake attracts me from the outer look itself, the Peach Crumble. The crusty top blends well with the bottom moist fruitful peaches and custard. I love this cake like seriously =]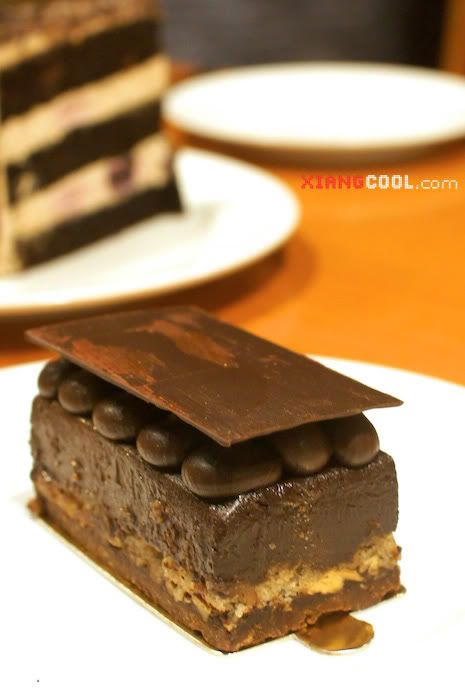 I will describe this Petit Antone as a very very very rich in chocolate flavour cake. Basically it's all about the richness of chocolate and hazelnut taste in it!
The last but not least, the Carrot Cake! It's always the last thing I will have and hopefully I forget about it or excuse it since I don't fancy this cake =P I never like this cake but still I has to say it was quite rich in taste with the nuts adding in it.
The rest of the photos are the foods I had during the buffet at Cinnamon Coffee House…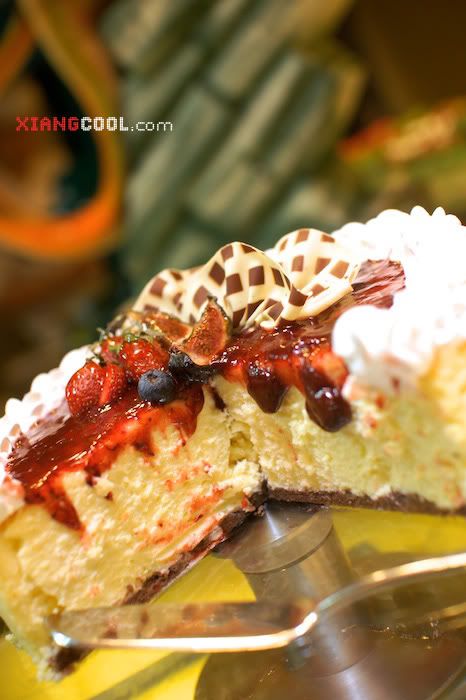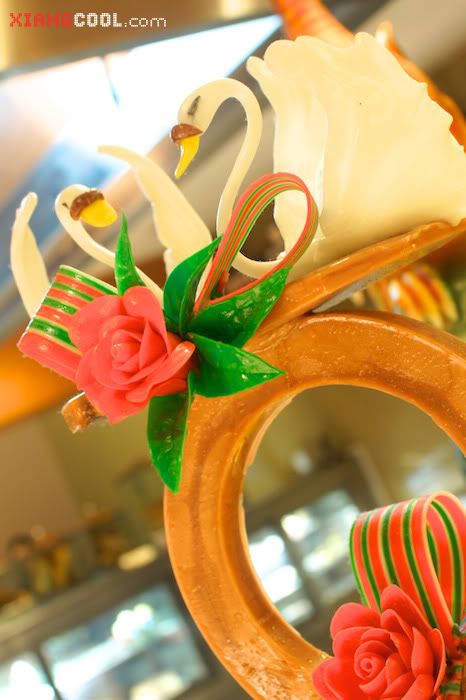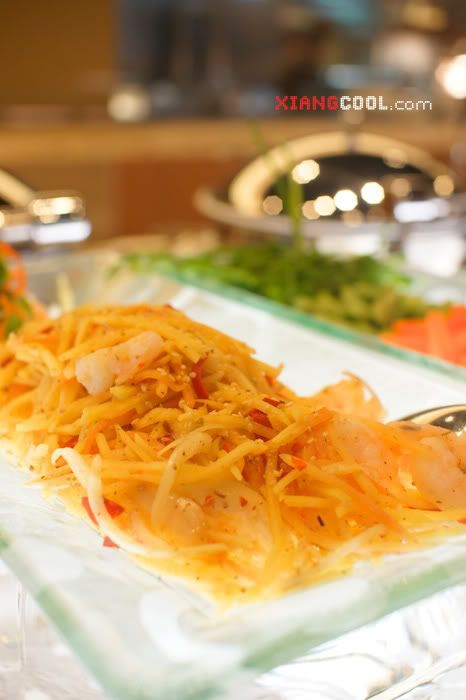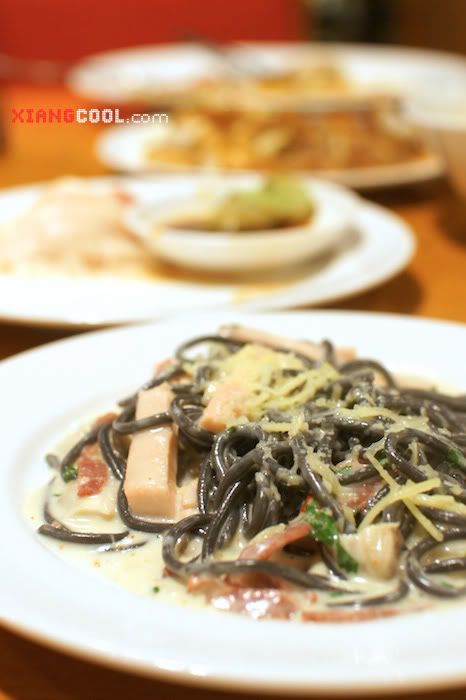 The cakes are priced at RM 12++ per piece for the sliced cakes and RM 90++ for the whole cake.
Deli counter special offer: 50% discount on all breads and cakes at the counter from 3.00pm daily.
Cinnamon Coffee House is open daily from 6.00 am to 1.00 am.
Buffet Breakfast 6.00 am to 10.30 am (RM45++ per adult)
Buffet Lunch 12.00 noon to 2.30 pm (RM72++ per adult)
Buffet Dinner 6.30 pm to 10.30 pm (RM85++ per adult)
Supper 11.00 pm to 1.00 am (ala carte)
Weekend Hi-Tea 12.00 noon to 4.30 pm (RM58++ per adult on weekends)
(RM65++ per adult on public holidays and special occasions)
50% discount for child aged 4 – 12 years.
For reservations or enquiries, please call 03- 7681 1157/ 1166.