Last weekend I was invited by Boon Wei for a food review session in conjunction of the launch of new menu in Full House.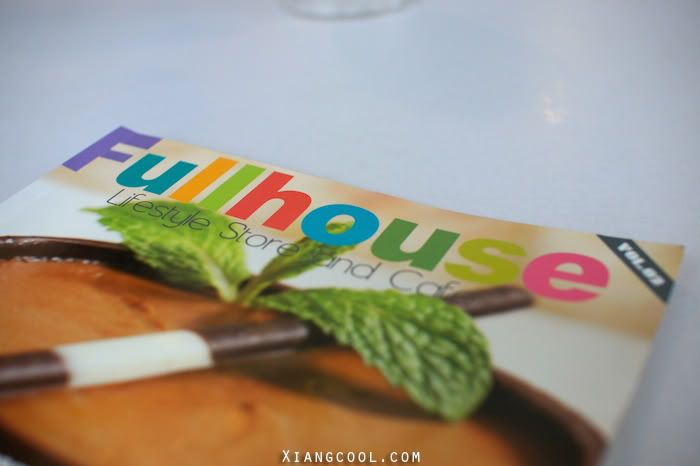 As most of you may know, Full House Lifestyle Store and Cafe has been designed to resemble a full-sized house. It provides a relax and leisure feel right at home.
Let's start of with the new drinks menu…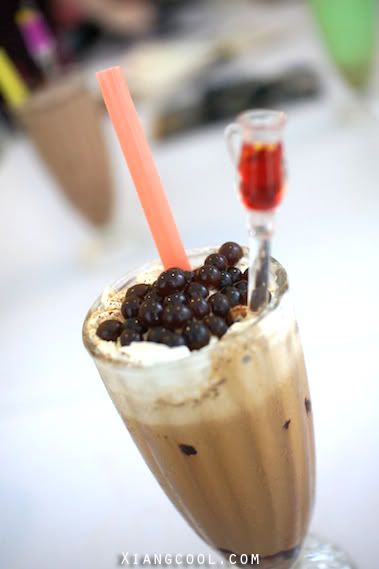 Tiramisu + Magic Ball
A rich aromatic ice blended coffee drinks with cream and magic balls on it. Talk about the magic balls, it's sort of a light coated balls filled with flavor syrup in it. It's actually quite fun having the magic balls burst in your mouth.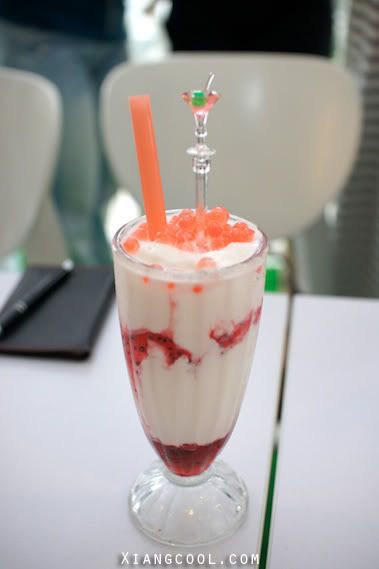 Vanilla + Dragon Fruit + Yogurt Magic Ball Special Ice Blended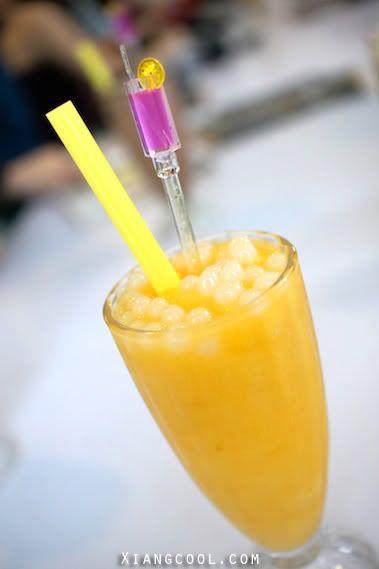 Peach + Yogurt Magic Ball Special Ice Blended
Another rich with peach aromatic drinks which taste something like passion fruit to me. An ideal drinks to order if you would prefer fruity drinks to quench your thirst.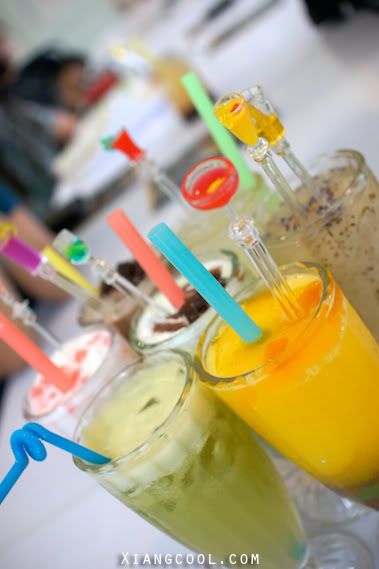 Introducing the chef of Full HouseLifestyle Store and Cafe, Mr. Jeffrey!
Jeffrey Chef presenting the cuisine to the floor!
Let's start with the food now =]
Forest Mushroom Soup and Clam Chowder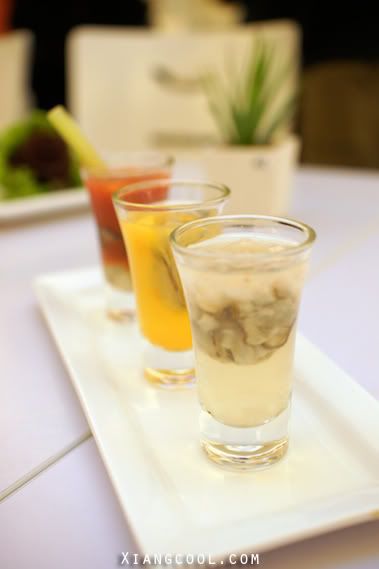 Oyster Shooter comes with 3 different juices! The Tomato Celery, Citrus and Lemon Grass Lycee!
Tried the tomato celery oyster shooter, maybe it's just not my taste, I would prefer with tobasco sauce although they explain that it would spoilt the taste. Heard the lycee one was nice…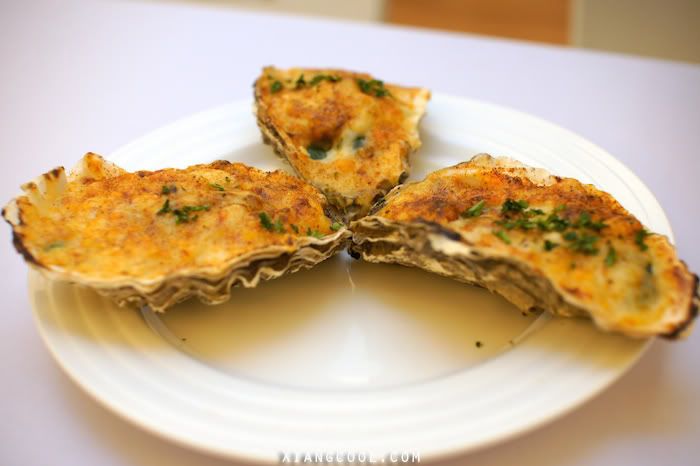 Oyster Mornay
Fresh oyster were used to baked with cheese and it taste real good. The freshness of oyster still there although it was coated with layer of cheese.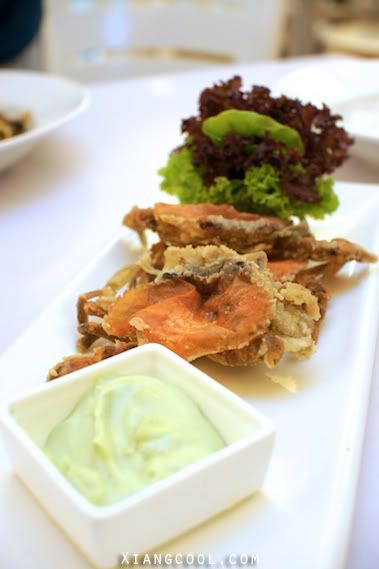 Deep Fried Soft Shell Crab served with MayoWasabi
Pineapple Chicken Salad
If you were to look for appetizer in Full House, this is highly recommended by Xiang here. The deep fried chicken and pineapple coated with mayo sauce taste damn good although it's just an ordinary combination. Taste good even though it was cold..
Coming on will be the main course…
Vongole Spaghetti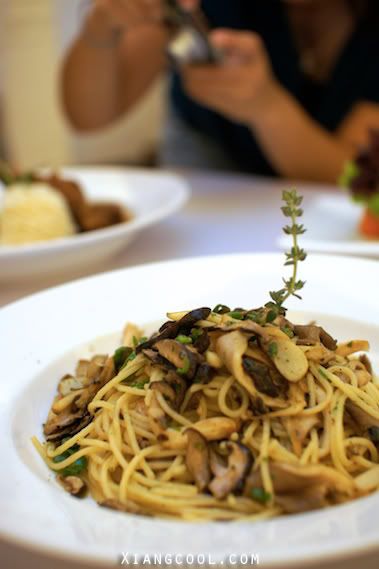 Al-Funghi Spaghetti
This spaghetti was filled with rich mushroom aroma but it's a bit dry to me, would prefer it be more wet to me.
Oven Roasted Chicken Parcel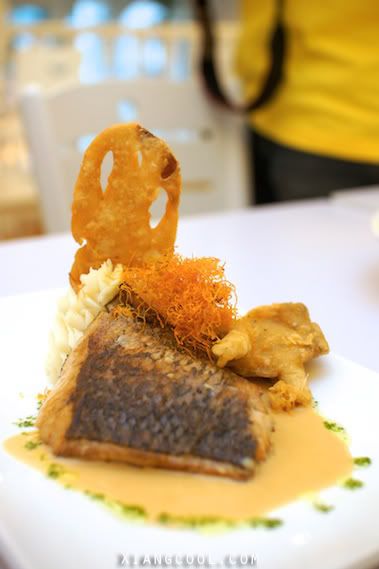 Sear Seabass
Salmon Salad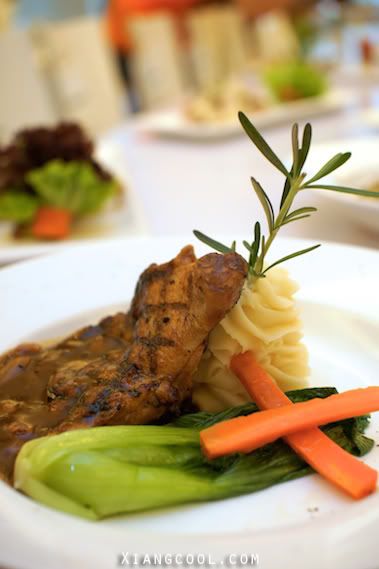 Wok-sear Chicken Chop
Chicken Chop with Black Pepper sauce served, it has a very mild spicy taste as the sauce was cook together with some raisins in it. Ideal for people who can't take too spicy but I personally would prefer a more spicy one.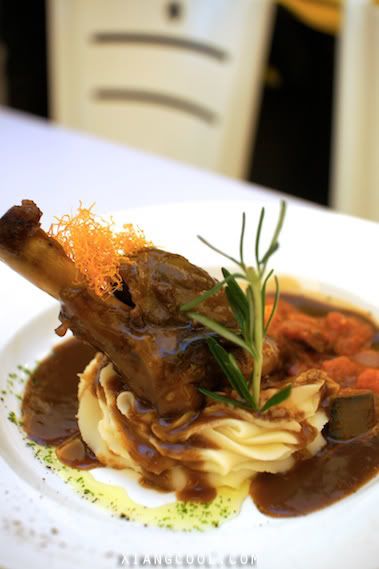 Braised Lamb Shank
Another highly recommended food by Xiang =] The lamb shank was served with mash potatoes and it taste awesome neither the texture or taste.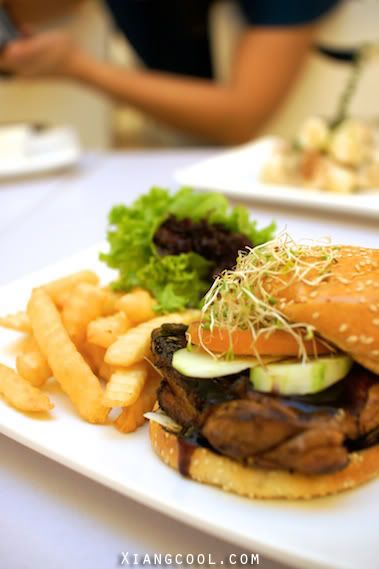 Teriyaki Chicken Burger
The surface of the meat patty was over burnt and taste bitter to me, I dunno it's just the style of teriyaki or I'm just a person who can't take bitter food.
Profiteros
A small round puff filled with vanilla ice cream and chocolate dressing on it. Best consume when it's chill as it taste too soft when it's started to melt.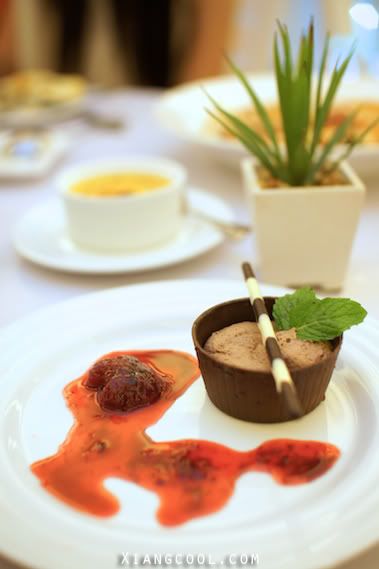 Black Forest Chocolate Cup
Chocolate mousse served in chocolate cup comes with strawberry sauce!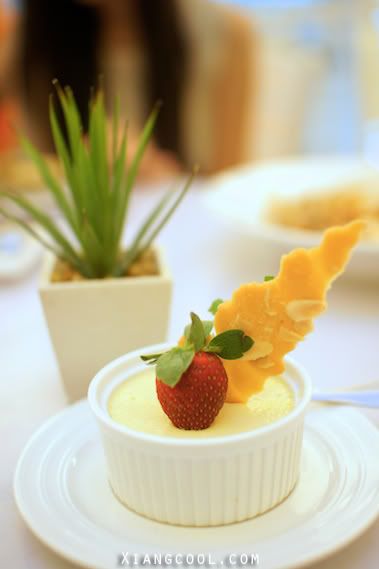 Blueberry Cheese Cake
Creme Brulee
A dessert consisting of rich custard  based topped with a contrasting layer of hard caramel. Something new to me to try…
Tiramisu
Simon, Xiang and Ewin!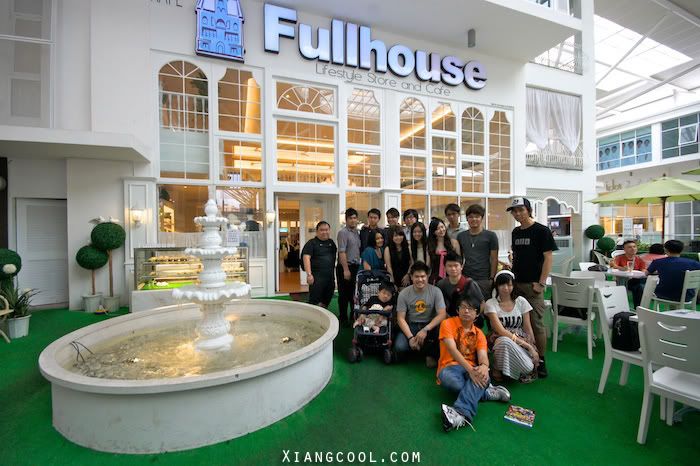 Group of bloggers that went for the food review!
Business Hour : 12pm-11pm
Map of Full House Lifestyle Stores and Cafe at Sunway Giza..