Since Hari Raya Aidilfitri is around the corner, I decided to dish out a Malay cuisine Ayam Masak Merah (Spicy Tomato Chicken) for dinner with my dad.
A bowl of Jasmine fragrance rice topped with fried egg, stir-fry french beans and Ayam Masak Merah! I am salivating again!
I spent about 2 hours dishing this meal, not much of skill required. Patient is always the key to successful cooking.
Getting the spice paste ready!
Fry the onion, garlic and ginger until it's soft and translucent.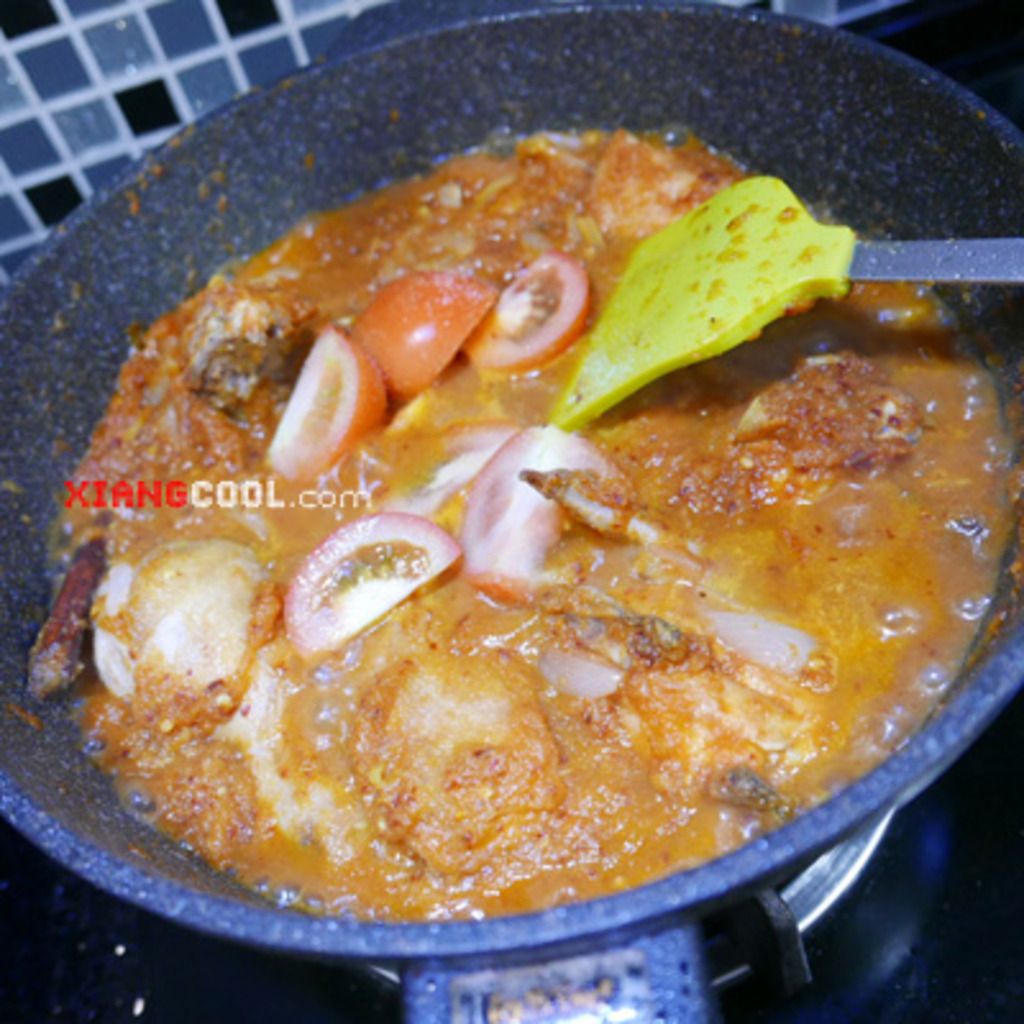 Add more tomatoes to your like!
These juicy chicken meats are ready to be coated with the spice sauce!
Add in the secret ingredient Lingham Sweet and Spicy Sauce to elevate the flavour of the entire dish!
The last step, coconut milk to thicken up the sauce and creamy-ness flavour!
Ayam Masak Merah/strong>
Ingredients (2-4 servings):
1/2 fresh chicken, marinate with salt and pepper
1 white onion, sliced
3 cloves of garlic, sliced
2″ ginger, sliced
1 star anise
1 cinnamon stick
1 tablespoon Lingham Sweet and Spicy Sauce
200 ml water
40 ml coconut milk
1 teaspoon salt
1 tablespoon sugar
Spice Paste
2 white onion
3 red onion
3 cloves of garlic
2″ ginger sliced
2″ galangal sliced
1 stalks lemongrass, white parts only, thinly sliced
10-15 dried chillies (soak in hot water for 5 minutes)
Directions:
1. Heat a wide non stick pan over medium heat, add in enough oil and sear the chicken skin side down and sear for 3-4 minutes each side. Set aside.
2. Place all the ingredients for the spice paste in a blender, add just enough water and blend until smooth.
3. In the same pan, over medium high heat, fry the sliced onion, garlic and ginger, star anise and cinnamon stick until soft.
4. Add the spice paste and Lingham sweet and spicy sauce in and fry for 5-10 minutes.
5. Add the chicken and stir so the sauce coats the chicken. Add the tomato and water, bring the sauce to a boil. Once boiled, stir in the sugar and salt. Turn the heat to low and simmer covered for 10-15 minutes.
6. Add the coconut milk and stir until incorporated.
7. Bon appetite!