Apart from serving a fine dining experience for the guest, Fisherman's Cove is now making a twist on the Friday's night (November onwards) by serving an arrays of Village-inspired seafood delicacies.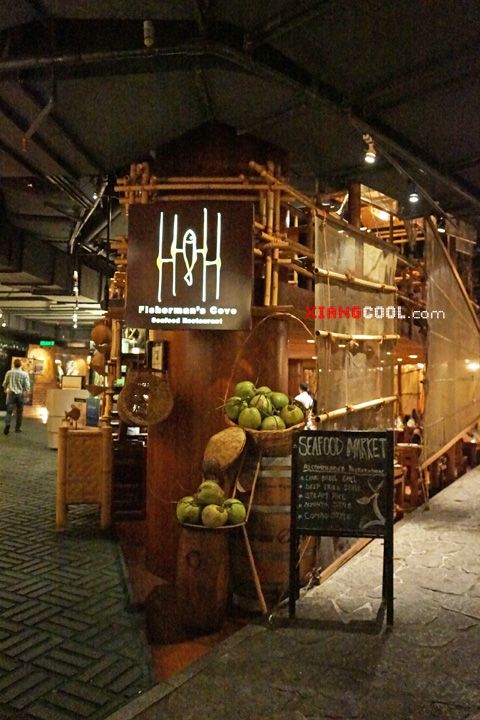 Fisherman's Cove is an intimate fine dining stylish seafood restaurant crafting East meets West delicacies. Greeeted with bamboo structures and transparent aquatic themed interiors, ready to dive in the sumptous seafood selections from the Mediterranean Sea.
Proceeding to the glass display whereby the fellow fishes, oysters, prawns and crabs waving to you! Pick me as your food tonight "wave"! Okay I'm going way too far
Unlike other dining experiences, guests can establish the quantity of seafood they would like to consume for the night.
Pricing for each dish will be based on the quantity of food selected. A staff will be on hand to weigh the seafood immediately, allowing the guests to make quantity adjustments as seen necessary.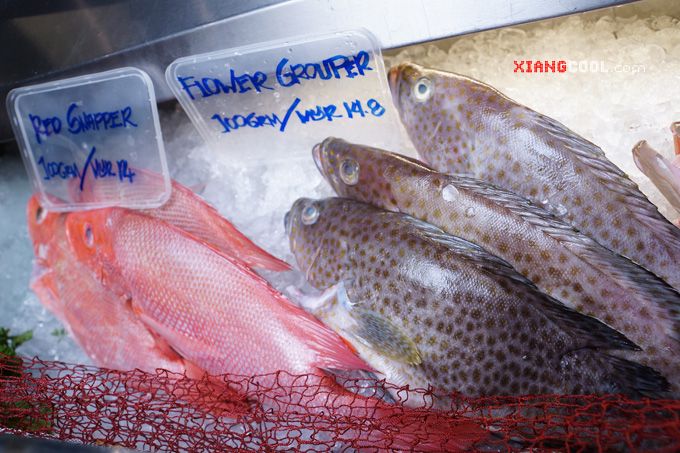 From the fishes to prawns, there's Glorious Coral Grouper, Oil Grouper, Red Snapper, Golden Snapper, Rainbow Trout, Giant Clam and Venus Clam, Blue Mussels, Squid, Jumbo Tiger Prawns, Pacific Fresh Oyster and other live seafood like Canadian Lobster, Sri Lankan Mud Crab and Freshwater Prawn in the evening.
Once you have selected your seafood, the host of the restaurant will be at your service to make recommendations on the best way to cook your seafood.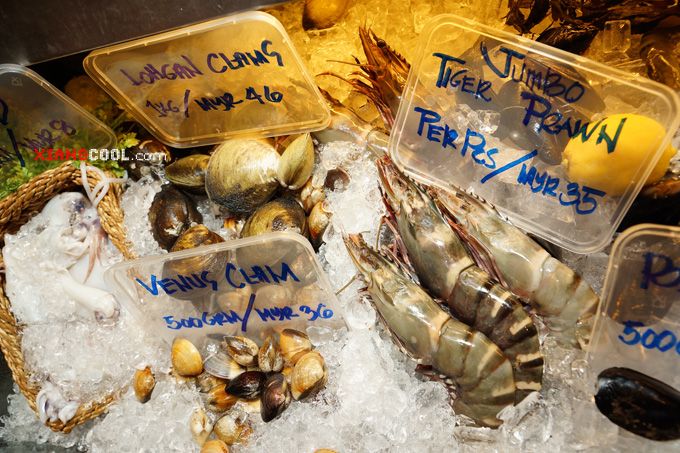 Executive Chef Wai has prepared countless ways from international to local cooking method and flavours to cater to everyone
Chef Wai heads YTL restaurants at Starhill Gallery, he won the "King of Kitchen" title in the recents year. A collaboration with Austrian Chef Johann Lafer for a cook book namelty Two Friends, One Cuisine has won them Special Award of Jury, Best Cookbook of the Year in Germany and Gourmand World Cookbook Awards in Beijing.
Fine tuning the cooking methods, you may even expect ikan bakar with daun pisang at Fisherman's Cove.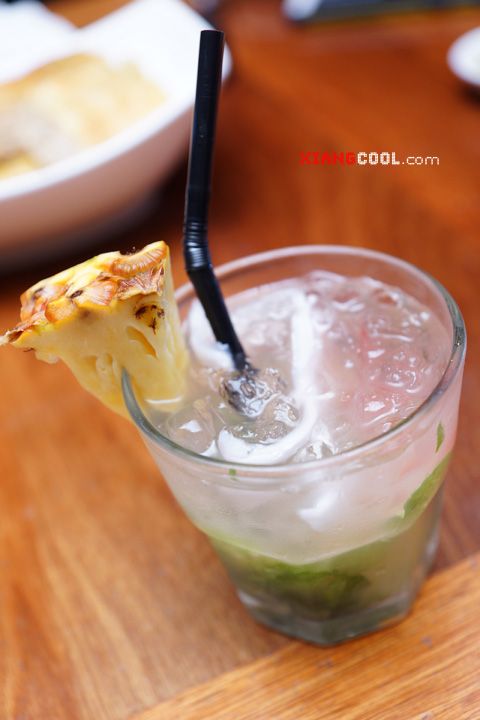 Welcome Drinks
As soon as we entered Fisherman's Cove, we were greeted with a beach-inspired welcome drink created especially by the beverage manager at Feast Village. The welcome drink is totally fruity and refreshing with slices of coconut meat and minty flavours.
Fresh baked Focaccia was served with balsamic vinegar and olive oil.
We were then served the freshly baked Focaccia that put a smile on my face. I just love the simplicity of bread with olive oil + balsamic vinegar.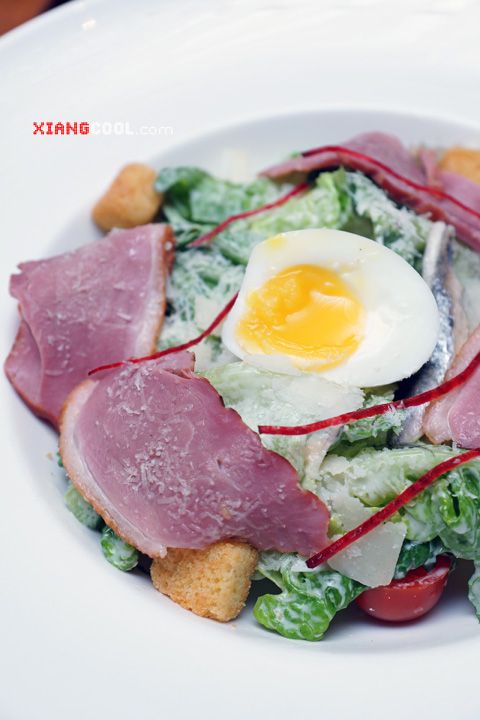 Organic romaine lettuce " caesar style " with smoked duck breast
Before we start to deal with the seafoodmates, salad is just so my thing. The organic romaine lettuce were tucked with sliced of rich smokey duck and a nutty creamy caesar salad dressing topped with a molten egg yolk. A perfect ending with some shavings of parmesan.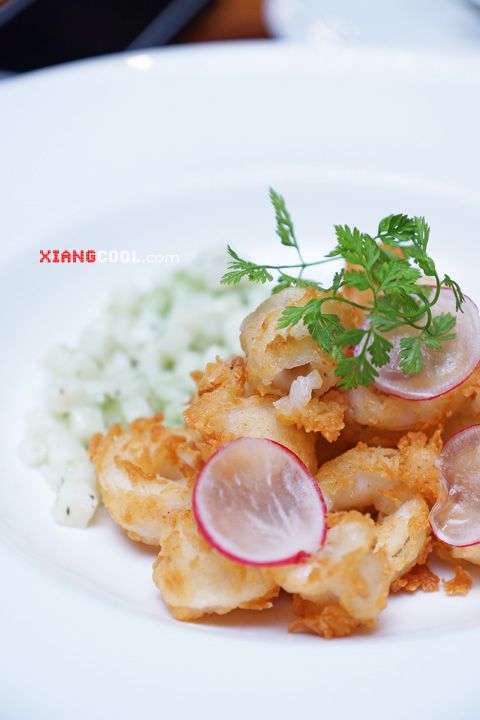 Deep fried calamari with sweet turnip & mint salad
Deep fried calamari is something we would order whenever we go to the Thai restaurants, the chef served us a basic large golden crispy squid rings accompanied with cubed turnips in creamy dressing. You can take the salad and leave the calamari to me now =P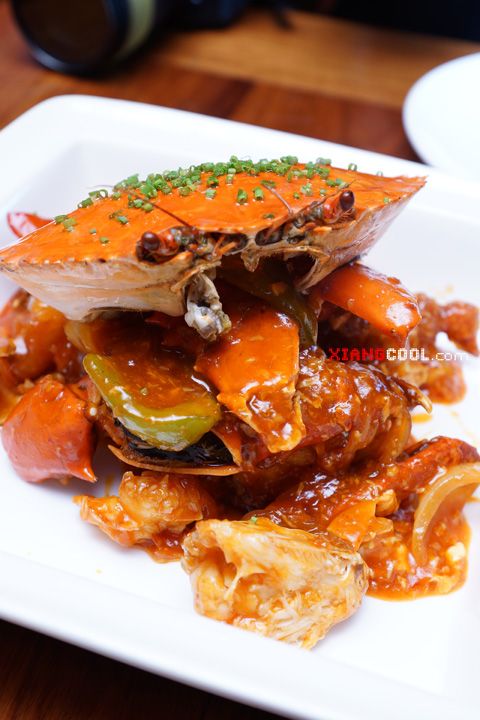 Singapore style chilli crab
One of the star fish for the night, the chef dished out a large mud crab cooked with the infamous Singapore way. The meaty crab itself were satisfying, paired with the sweet and spicy sauce sent me to heaven right straight! Yums! Can I have more please…..
Pan fried fillet of red snapper with pipi clam & lemon butter sauce
I brought along my friend for the dinner and he specially requested for a butter sauce dishes. The chef introduces us the pan fried fillet of red snappers accompanied with the lemony buttery sauce pipi clams! The citrus sauce set off of the inner guily for having the butter sauce! But you wont want to miss the dish if you're just thinking about dieting, skip for a day man!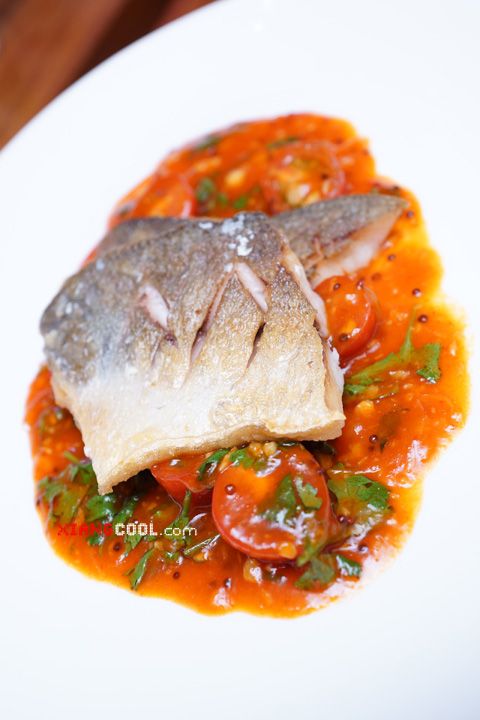 Crispy Threadfin with Coriander Chili Lime Sauce
The chef has prepared us a crispy Threadfin along with Coriander Chili Lime Sauce. The fish fillet was fresh and firm. Fresh cherry tomatoes added to the sauce does balance off the sourish and spicy sauce giving it a robust savoury flavour.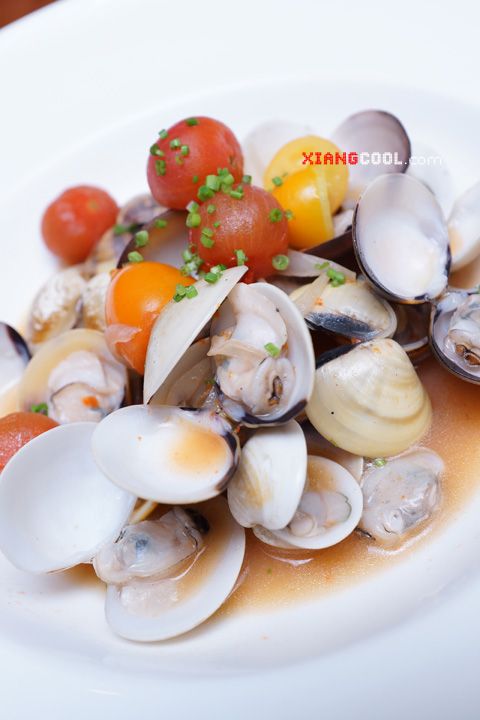 Clams in Fresh Momotaro Sauce
The chef has recomended us the venus clams to be cooked in fresh momotaro sauce. The clams were first steamed cooked and then cooked in a sweet japanese momotaro browth. The lightly flavour broth enhanced the flavours of the clams.
Sizzling salt water jumbo tiger prawn with garlic butter
The jumbo tiger prawns were grilled with garlic and butter and served in a sizzling hotplate. The aroma of garlic butter filled up the table and the sauce enhanced the flavour of the tender bouncy tiger prawns.
pacific rock oyster
Oyster on the rock will never fails you, topped up with some lemon juice and tobacco sauce! Yums!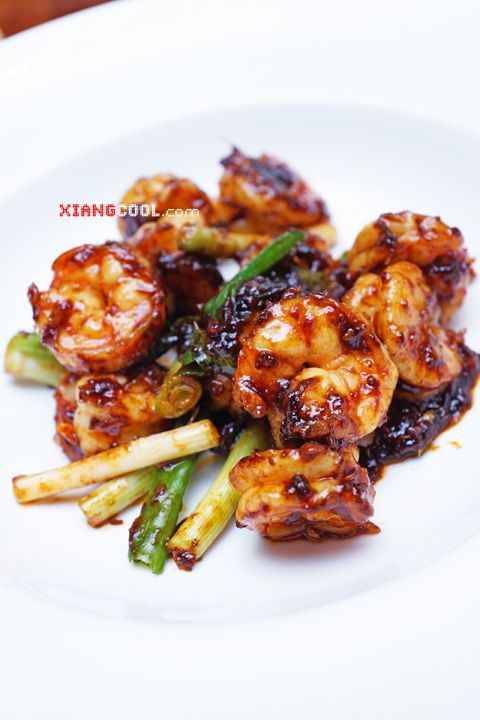 Kam heong tiger prawn
Must order items! The Kam Heong Tiger Prawns were totally awesome! The tiger prawns were glazed with the robust kam heong sauce making it super tasty, sweet and flavourful!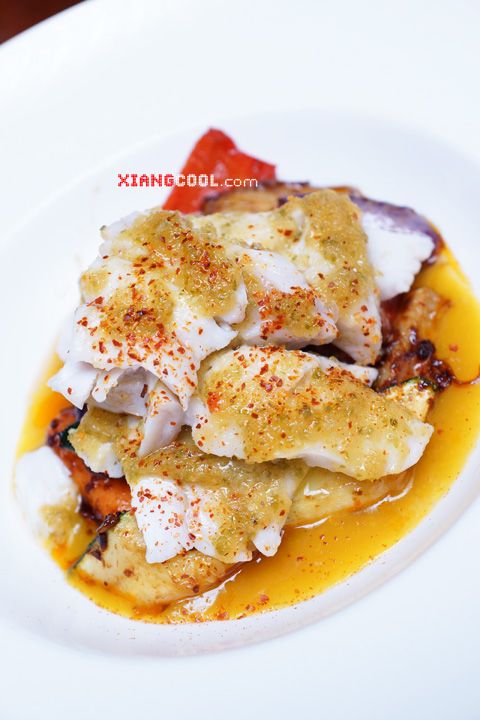 Spicy Nyonya Steamed Fillet of Sea Garoupa
This beautiful piece of work has won everyone heart! The sea garoupa fillet was dressed in a spicy piquant Nyonya sauce which tasted of lemongrass, chili, garlic and other herbs and spices. The fish fillet was moist and tender to taste.
mix seafood pasta in fresh momotaro tomato sauce
Classic Moule Mariniere Normandy
These beautiful blue mussels are lightly cooked in the wine broth and completed with a light flavouring of chives.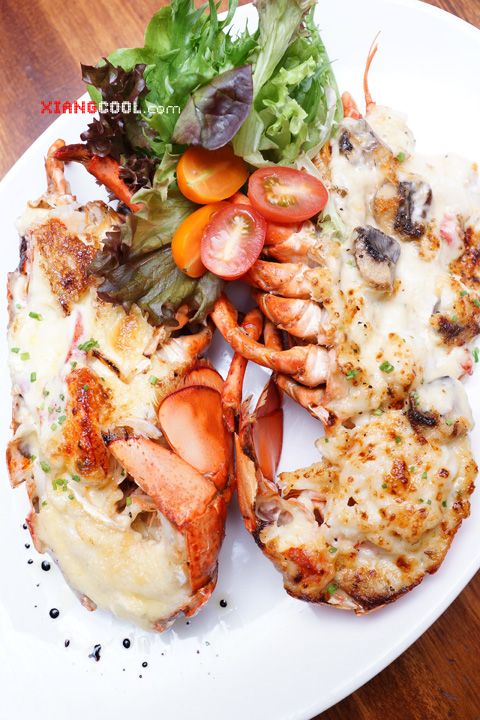 canadian lobster two style …thermidor and cheesy mornay
Everyone were looking for this star dish and it doesn't disappoint us. Look at the perfect Lobtster covered with a rich béchamel cream sauce studded with plump mushrooms. The cheesy cream add up another flavours to the sweet and tender lobster meat. I have the lobster you have the salad k!
Grilled Tiger Prawns
Since the chef were confidents with the fresh ingredients, a basic grilled tiger prawns shall proof it well. With minimal seasoning with garlic and butter, the sweet and tender prawns were so awesome!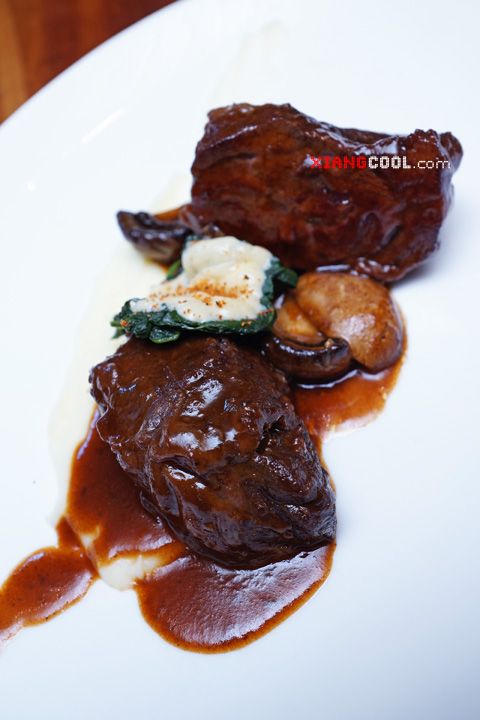 wagyu beef cheek
Apart from serving the sea creatures, there's meat selection available for the meat lover! You can choose from chicken, lamb and beef. The chef has recommended the wagyu beef cheek which was slow braised to perfection. The rich wine sauce has layered of flavours giving it a great kick!
five spice rack of lamb
A rather different lamb racks, the chef has marinated it with five spice. It was grilled till medium raw and served along with black pepper sauce. I love each bites from the lamb racks while the juice was so flavourful.
Tiramisu
The talking menu concepts also includes a recommendation of desserts from the host. The tiramisu the silky mascarpone cream covering the coffee soaked sponge, chocolate soil and topped with a French macaron.
Crème Brulee
The luscious cooked cream with caramelized sugar top served along with French macaron too.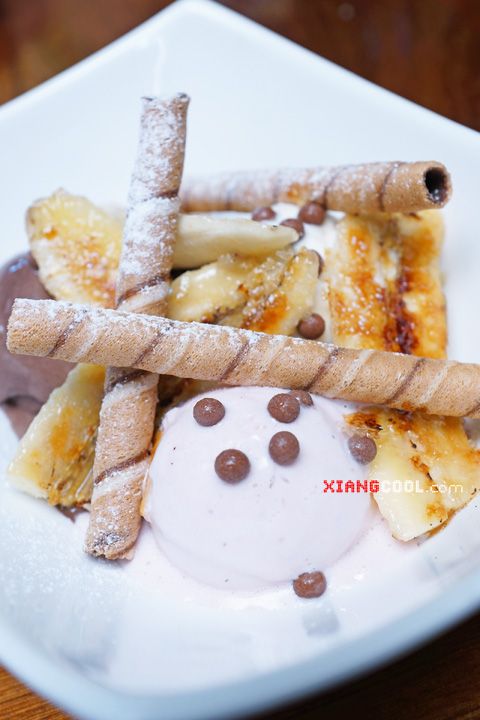 Banana Split
The classic Banana Split with three scoops of Chocolate, Vanilla and Strawberry Ice Creams with Caramelized Banana with wafer rolls and chocolate balls.
Chocolate Lava
A nice crust cake with warm chocolate lava served along with a scoop of vanilla ice cream and chocolate soil.
Chocolate Mousse
Twin chocolate mousse served along with brownies, chocolate soil, chocolate soil and its chocolate-licious!
FISHERMAN'S COVE
Feast Village, Starhill Gallery
181 Jalan Bukit Bintang,
55100 Kuala Lumpur
Tel: +60 3-2782 384
Website: www.feastvillage.com
Facebook: www.facebook.com/feastvillage