Yes, you didn't get me wrong! I'm letting you know a pretty simple way to earn/win/get your RM20 cash vouchers to dine at TGI Friday's!
As I have mentioned previously on my Facebook, TGI Friday's Malaysia is celebrating their 20th Anniversary now!
What you have to do is as simple as this…
First
From 27th October till 13 November, head over to any TGI Fridays outlets enjoy a good meal. You will notice that there's a placemats with the party hats available on the tables, keep an eye on those as they are the main key to your cash vouchers =]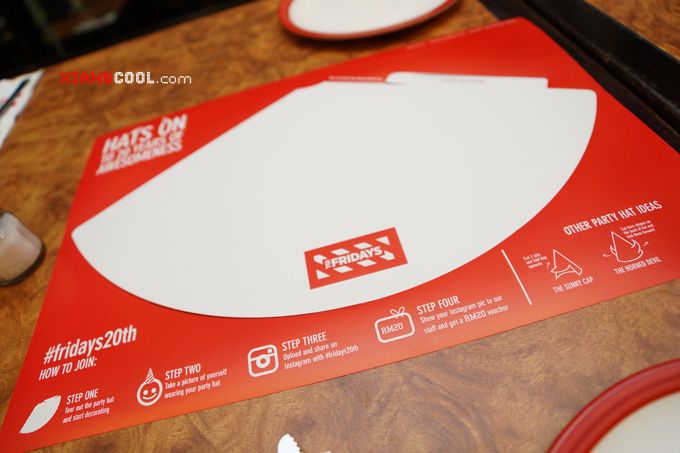 Secondly
Squeeze all the creative cell out of your brain to decorate the party hats with the colour pencils/ crayons/ marker pen provided!
Please excuse me for the ugly artwork, I'm never good at this (sigh…)
Third
Take a picture of you wearing the party hat you have just crafted! Upload the photo on instagram with the hashtag #friday20th .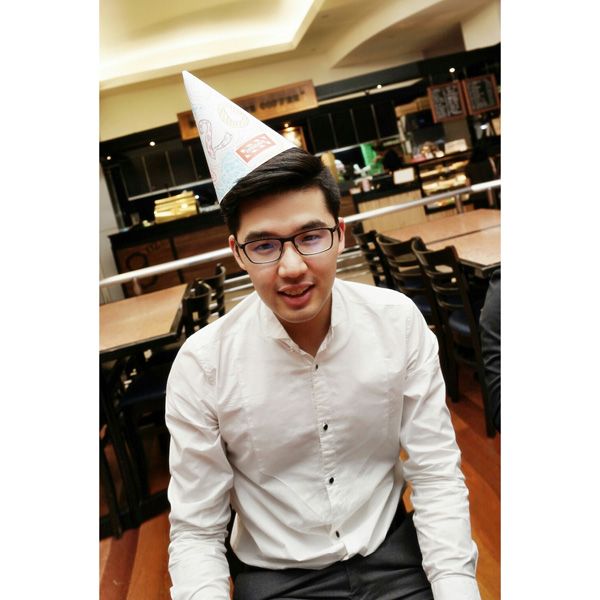 Lastly
Show the instagram post to the waiter/waitress and you will be rewarded with the RM20 vouchers!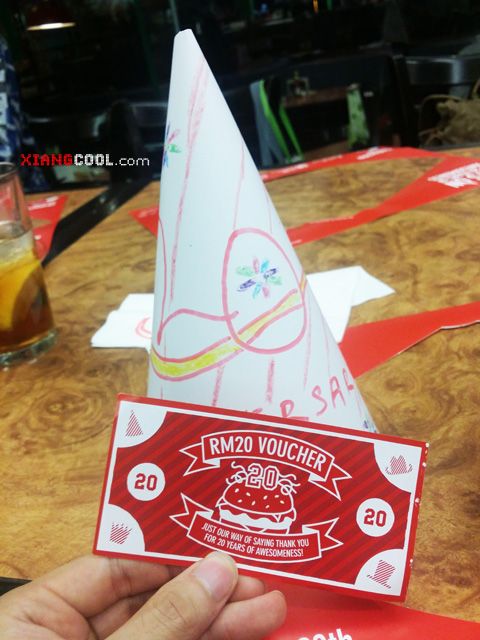 It's so easy right? I'm impressed that TGI Friday's are so kind to rewards all their patrons in conjunction of their 20th anniversary.
You might be asking, if I go in a group of 4, am I entitled to only 1 voucher? The answer is NO, all of you are individually entitled to the reward as long you have done the steps mentioned above. Cool right!
Here's the Terms & Conditions of the voucher to further answer your further queries.
1. This RM20 voucher can be used on all food and beverages at all TGI FridaysSM Malaysia outlets.
2. This voucher is valid from 27 Oct to 28 Nov 2014.
3. No change will be given.
4. For dine-in only.
5. Redemption is applicable to 1 (one) voucher per table.
6. Not to be used with other in-house promotions, discounts or loyalty cards.
7. This voucher cannot be redeemed for cash. If the subtotal amounts to more than voucher's value, the difference will be paid for by the purchaser.
8. Excludes 10% service charge and applicable government tax.
9. TGI Fridays, may amend the Terms & Conditions if and when seen fit without prior notice.
Let me share with you the food and drinks my foodie gang during the visit to TGI Friday's, The Garden =]
I ordered the Orange Blast Slush as I was looking forward for some freezy vitamins drinks, need more vitamins haha!!
We ordered the FRIDAYS™ THREE-FOR-ALL for our starters! Featuring the Loaded Potato Skins with beef bits, Fried Mozzarella and spicy Buffalo Wings, complete with sour cream and green onions, marinara sauce and celery sticks with Bleu cheese dressing. I just can't get my hands off the Buffalo Wings, they are simply too yummy!
For my main, I have decided to get the TENNESSEE NEW YORK STRIP & SHRIMP. Featuring the 10-oz. Australian chilled air flown grain-fed strip steak and crispy Cajun-spiced shrimp served with Cheddar cheese mashed potatoes and our Tennessee sauce. The steak was done perfectly leaving it a tender biting texture, not forgetting to pair with the special sweet savoury Tennessee sauce.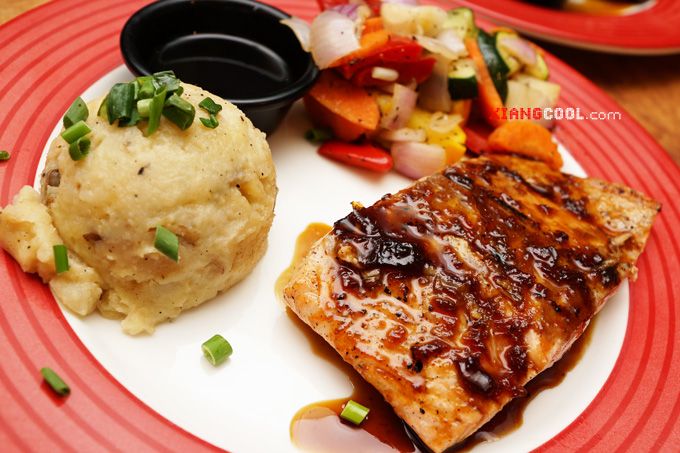 Chasingfooddreams ordered the TENNESSEE SALMON, North Atlantic salmon fillet chargrilled and basted with Tennessee glaze. Served with seasonal vegetables and Cheddar cheese mashed potatoes.
While Choi Yen ordered the GARLIC MARINATED GRILLED LAMB CHOPS. It's beautifully presented in the sizzling plate! Lamb chops marinated with garlic, seared to perfection. Served with demi glace, beef bits, seasonal vegetables and Cheddar cheese mashed potatoes.
Another of our friend ordered the SIZZLING COMBO FAJITAS with Chicken and Beef. Served on a skillet of roasted onions, red & green peppers. Served with hot flour tortillas, pico de gallo, guacamole, sour cream and Colby cheese.
Now I'm craving for more, lets head back to TGI Fridays' together to get your voucher and spent my voucher right away