I posted the Pork Chop with Blackberries that I cooked 2 days ago attracted much attention on both instagram and facebook. Since some of them was asking for the recipe, here I am to share the recipe up here. I learned the two dishes demonstrated by Paula Deen on Food Network Asia.
However, I dont measure exact amount of ingredient during cooking. Hence, make sure you plus minus accordingly =P
Pan-Fried Pork Chops with Blackberries
Ingredients :
2 Thick Bone-In Pork Chop ( I bought from BIG Publika)
Seasoning: Garlic Powder, Salt and Pepper
2 tbsp of oil
2 tbsp of butter
1/2 cup dry white wine (Chardonnay)
100g Blackberries
1 tbsp honey
1 tbsp Thyme
Lemon Wedges
Instructions:
1. Mix the Garlic Powder, Salt and Pepper at the ratio of 2:1:1 , rub the pork chops throughly with the mixture.
2. Heat the pan over high heat, add the oil and butter and wait till the butter melted. Seared the chops for about 2 minutes each side. Transfer the chops to a paper towel-lined plate.
3. On another clean pan, add in 2 tbsp of the oil from the searing, add in the wine and simmer it under low heat (around 4-6 minutes).
4. Add in the blackberries and honey and cook until the berries are soft for 5-7 minutes. Add in the thyme a.
5. Add in pork chop and baste them with the sauce until it thicken up for 2 minutes.
Green Bean Bundles with Bacon Vinaigrette
Ingredients :
Fresh French beans, trimmed
1 Long carrot, peeled into thin ribbons
4 slices of bacon, cut into 1/2-inch pieces
2 shallots, minced
3 tbsp brown sugar
3 tbsp balsamic vinegar
1 tbsp oil
Instructions:
1. Preheat the oven to 175 degrees C. Line baking sheet on a baking pan.
2. Boil the green beans until crisp-tender for 4 minutes. Remove from heat, drain, and plunge into ice water to stop the cooking.
3. Wrap 5 or 6 green beans with 1 carrot ribbon and place on the prepared baking sheet.
4. In a pan, fry the bacon pieces over medium heat until crispy. Drain on paper towels.
5. Using 3 tablespoons bacon drippings in a pan heat over medium heat, fry the shallots around 2 minutes, stirring occasionally. Add the brown sugar and cook for 1 minute. Stir in the balsamic vinegar and cook for 6 minutes. Remove from heat and stir in the olive oil.
6. Drizzle 1 tablespoon of the hot mixture evenly over the green bean bundles. Bake until green beans are tender around 10 minutes. Topped the bundles with bacon crisp before serving.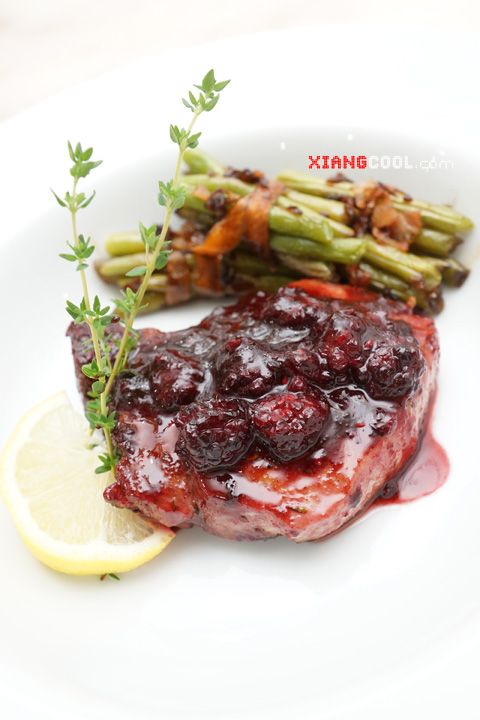 Bon Appetit!